Home | Coaching for Creatives | You | Your Goals | Mark | Testimonials | Apply
I'm an award-winning poet who has been coaching creative professionals since 1996. I live in Bristol, UK and work with clients all over the world.
I help my clients in many areas, including their creativity, productivity, communication and presentation skills, writing, branding and marketing, sales, networking, money, strategy, business models and leadership.
But most of all I help them show up as their most creative, courageous, and resilient selves—at their desks, in the studio, on stage, with their own clients, or in front of the cameras.
And behind the scenes, I help them handle the pressure, make the big decisions, and have the difficult conversations that are unavoidable on the road to success.
I do this because I know what it's like to be the odd one out, the one with the crazy vision, the one who feels compelled to do things his or her way.
I do it because I know how lonely it can feel on those days when you have to make a big decision, or deal with a big unexpected problem, or hold true to your vision when the people around you don't get what you're trying to do, or why.
And I do it because I know what it's like to have someone in my life who really understands me and my vision, who will support and encourage me to be my best self—and who won't accept anything less than my best.
I want to be that person for them. Maybe I could be that person for you.
If you're interested in exploring how I could help you transform your work (and maybe your life), the first step is to answer the questions on this page.
Get to know me a little better…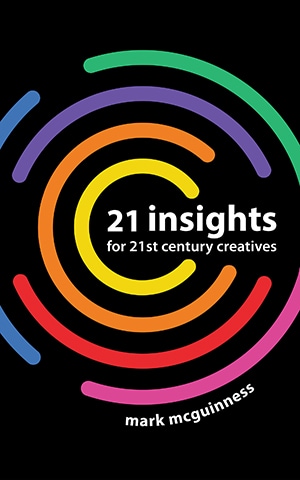 If this is your first visit to my site, a good way to get to know my ideas is to read my article 21 Insights from 21 Years as a Creative Coach. I have also expanded this article into a short book, 21 Insights for 21st Century Creatives.
You might also like to get a sense of what it's like to talk to me, by listening to my podcast. Some episodes feature interviews with my coaching clients, including Aileen Bennett, Daniel Boettcher, Jarie Bolander, Fabrice Bourrelly, Nick Dunin, Laurie Millotte, Sara Milne Rowe, Josh Szeps, Javier Weyler, Maria Bovin de Labbé and Christina Patterson.
My background
I've been coaching creative professionals since 1996. During that time I've worked with outstanding performers in just about every conceivable field of the arts and creative industries, including fine art, literature, film, television, radio, theatre, music, design, advertising, architecture, fashion, dance, computer games and creative entrepreneurship.
I've written four books for creatives, two of which have been translated into Russian. I also contributed chapters to two international best sellers from 99U, Manage Your Day-to-Day and Maximize Your Potential.
I host the podcast The 21st Century Creative, where my guests include Steven Pressfield, Marcus du Sautoy, Scott Belsky, Tina Roth Eisenberg, Jocelyn K. Glei, Michael Bungay Stanier, Javier Weyler (Stereophonics), Joanna Penn and Todd Henry.
My own art is poetry. My poems are published in leading literary journals – you can read some of them here.
I was awarded Third Prize in the 2016 Stephen Spender Prize, the UK's biggest award for poetry in translation, for an excerpt from my translation of Chaucer's long poem Troilus and Criseyde.
My original professional training was in psychotherapy. I spent 19 years as a psychotherapist, including work in the UK National Health Service and as a trainer and clinical supervisor for other therapists, before closing my therapy practice to concentrate on my coaching and writing.
As well as coaching private clients, I have delivered training, coaching and consulting for organisations including 99U, the BBC, The British Film Institute, British Telecom, Channel 4, The Design Trust, Frog Design, HOW Design, The UK Institute of Practitioners in Advertising, Magnum Photos, McCann Erickson, The Royal College of Art, Transport for London, The University of Warwick and Vodafone.
My work has been featured in media outlets including Creative Review, Vogue US, The Wall Street Journal and on the Discovery Health Channel.
My BA is in English, from Oxford University, and I have an MA in Creative & Media Enterprises (with Distinction) from The University of Warwick. I also have two postgraduate diplomas and various certifications in psychotherapy.
I have been fortunate to learn from a unique combination of world-class mentors: John Eaton (psychotherapy); Mimi Khalvati (poetry); Brian Clark (entrepreneurship); Peleg Top (coaching); and Kristin Linklater (voicework).
Nice things people have said about me
Mark McGuinness is a rare cat – part poet, part coach for creative professionals, part old-time, overeducated Brit who thinks deeply about stuff you and I have never heard of … a man who has lived the life and who has watched and worked intimately with hundreds of others who've done the same.

~ Steven Pressfield, bestselling author of The War of Art
Mark's unique skill as a coach is being able to empathize as a creative professional, but also challenge as an ambitious entrepreneur.

~ J.F.Penn, New York Times & USA Today bestselling author
Of all the writers I know, I have learned the most about how to be a productive creative person from Mark. His tips are always realistic, accessible, and sticky. It's not just talk, this is productivity advice that will change your life."

~ Jocelyn K. Glei, author, host of the Hurry Slowly podcast, and Founding Editor, 99U
Many creative people are busier than ever, but rarely get around to the work that truly matters. Mark McGuinness offers solid and practical advice for busy creative people who want to make their mark on the world.

~ Todd Henry, author of The Accidental Creative
Motivation for Creative People is chock full of stories and tips, carrots and prods. It will give you the kick in the seat of the pants you need to get down to the business of creating. An enjoyable read!"

~ Roger von Oech, author of A Whack on the Side of the Head: How You Can Be More Creative and the Creative Whack Pack
Home | Coaching for Creatives | You | Your Goals | Mark | Testimonials | Apply