Home | Coaching for Creatives | You | Your Goals | Mark | Testimonials | Apply
I'm an award-winning poet who has been coaching creative professionals since 1996. I live in Bristol, UK and work with clients all over the world.
I've written four books for creatives and contributed chapters to two international best sellers from 99U. I also host the podcast The 21st Century Creative.
I help my clients in many areas, including their creativity, their productivity, their communication and presentation skills, their writing, their branding and marketing, their sales, their networking, their money, their strategy, their business model, and their collaboration and leadership skills.
But most of all I help them show up as their most creative, courageous, and resilient selves—at their desks, in the studio, on stage, with their own clients, or in front of the cameras.
And behind the scenes, I help them handle the pressure, make the big decisions, and have the difficult conversations that are unavoidable on the road to success.
I do this because I know what it's like to be the odd one out, the one with the crazy vision, the one who feels compelled to do things his or her way.
I do it because I know how lonely it can feel on those days when you have to make a big decision, or deal with a big unexpected problem, or hold true to your vision when the people around you don't get what you're trying to do, or why.
And I do it because I know what it's like to have someone in my life who really understands me and my vision, who will support and encourage me to be my best self—and who won't accept anything less than my best.
I want to be that person for them. Maybe I could be that person for you.
Get to know me a little better…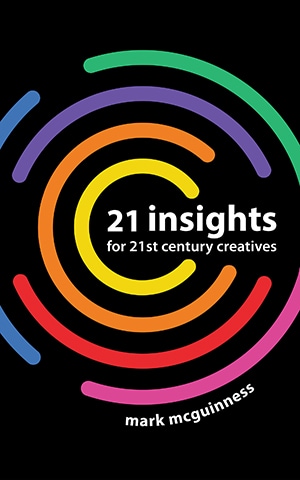 If this is your first visit to my site, a good way to get to know my ideas is to download a free copy of my book 21 Insights for 21st Century Creatives. The insights in the book emerged from the first 21 years I spent coaching creatives, as well as from my own practice as a writer.
You might also like to get a sense of what it's like to talk to me, by listening to my podcast. Some episodes feature interviews with my coaching clients, including Aileen Bennett, Daniel Boettcher, Jarie Bolander, Fabrice Bourrelly, Nick Dunin, Laurie Millotte, Sara Milne Rowe, Josh Szeps and Javier Weyler.
If you're interested in exploring how I could help you transform your work (and maybe your life), the first step is to answer the questions on this page.
My background
I've been coaching creative professionals since 1996. I also spent 19 years as a psychotherapist before closing my therapy practice to concentrate on my coaching and writing. My BA is in English, from Oxford University, and I have an MA in Creative & Media Enterprises from The University of Warwick.
I have been fortunate to learn from a unique combination of world-class mentors: John Eaton (psychotherapy); Mimi Khalvati (poetry); Brian Clark (entrepreneurship); Peleg Top and Rich Litvin (coaching); and Kristin Linklater (voicework).
Mark McGuinness is a rare cat – part poet, part coach for creative professionals, part old-time, overeducated Brit who thinks deeply about stuff you and I have never heard of … a man who has lived the life and who has watched and worked intimately with hundreds of others who've done the same.

~ Steven Pressfield, bestselling author of The War of Art
Home | Coaching for Creatives | You | Your Goals | Mark | Testimonials | Apply